ANTEC P10FLUX

Share it:
F-LUX Platform: Advanced case structure for excellent airflow + 5 x 120 mm fans included

Provide mass airflow to your components with room for up to 6 x 120 mm fans

Reversible & Swing-Open Front Panel: Choose how to open it according to your dominant hand or PC environment

Air-Concentrating Filter: Enhances the Cooling

Ready for radiator up to 360 mm in front & 120 mm in rear

Fan-Speed Control: Provide high/low modes

Sound-Dampening Foam on the top, front & two sides
SKU: ANTEC P10FLUX
Availability:
Out of stock
₹7,200
Out of stock
ANTEC P10FLUX
The P10 FLUX mid-tower silent case is well equipped with an industry-leading design of advanced ventilation, taking the Performance Series silent cases to the next generation.
Why the New Cooling Solution?
When Intel announced their latest 10th Gen CPU and AMD announced their new Ryzen 3 and 4 CPUs, they all deliver remarkable performance upgrades and better productivity, it also means the functional requirement of PC equipment needs to be taken to the next level, especially the thermal performance.
F-LUX Platform – Antec's Original Cooling Solution
What is the F-LUX Platform? The definition of FLUX is Flow Luxury. The F-LUX Platform is a new industry-leading and highly efficient design by Antec featuring an advanced case structure for excellent airflow combined with 5 x 120 mm fans included. A core element of the design ethos was to enhance GPU cooling performance.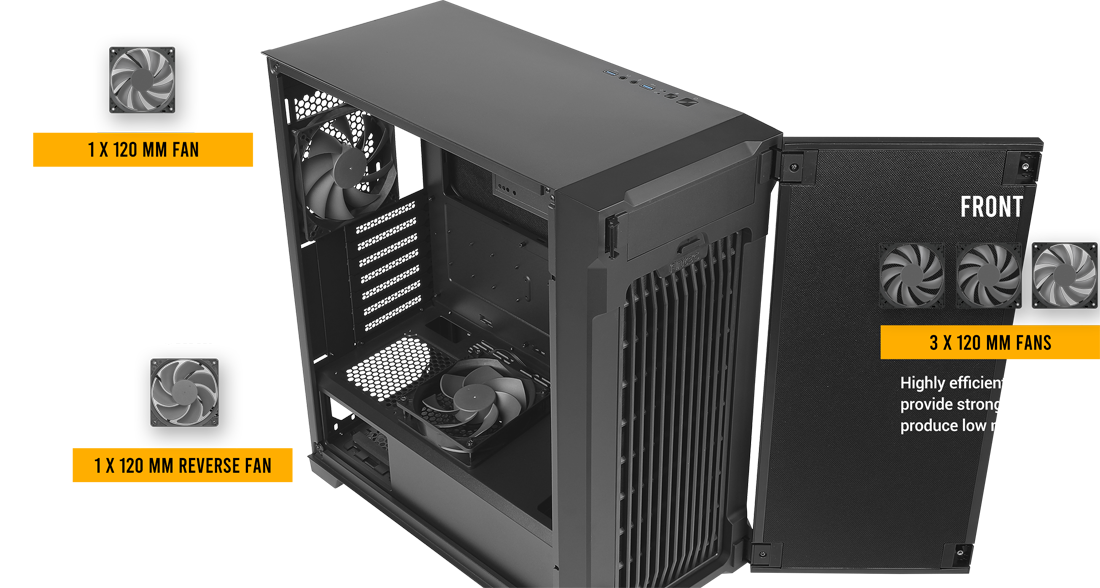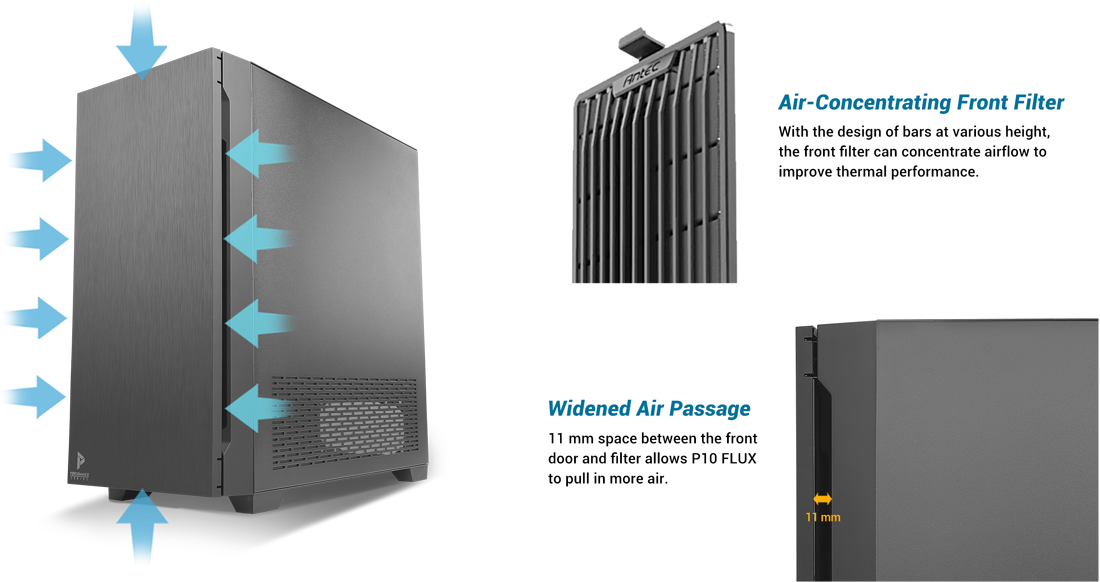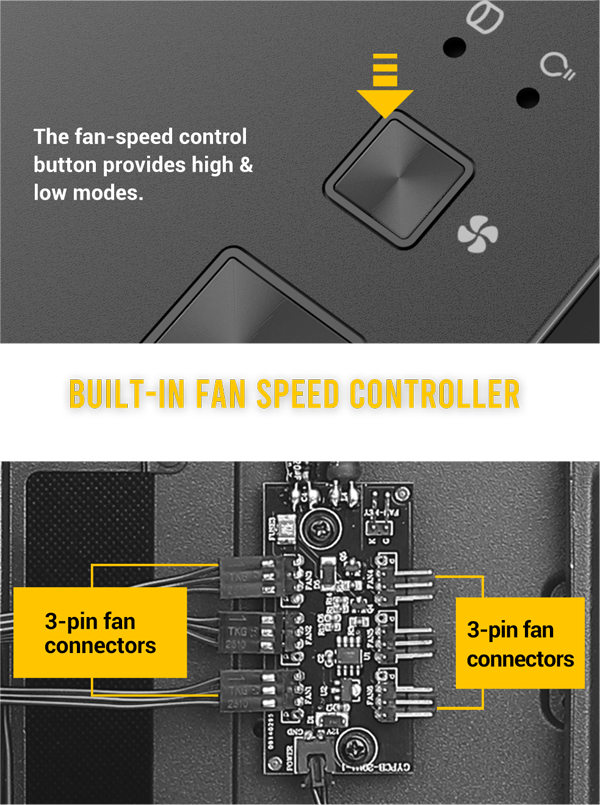 *check Antec official website here
*check more deals on our store
COMPATIBLE MOTHERBOARD
ATX, M-ATX, ITX
POWER SUPPLY
Not Included
MATERIAL
Steel + Plastic
5.25″ 
1
3.5″/2.5″(Convertible)
3/2
2.5″
3
CABLE MANAGEMENT SPACE
20 mm
GRAPHIC CARD LENGTH (Supported)
≤ 405 mm
CPU COOLER HEIGHT (Supported)
≤ 175 mm
PSU
205 mm
EXPANSION SLOTS 
7
I/O PORTS
Power, LED Control Button, 2 x USB3.0, HD-AUDIO
FRONT USB 3.0
2
FAN FRONT 
3 x 120 mm / 2 x 140 mm
FAN TOP
3 x 120mm silent fans in front
1 x 120mm reverse fan on PSU shroud
1 x 120mm fan in rear
FAN REAR
120 mm
DIMENSIONS (L x W x H)
477 x 220 x 486mm (DWH)
WARRANTY 
2 Year