SAPPHIRE NITRO+AMD RADEON RX 6700 XT OC 12GB
Share it:
SKU: 11306-01-20G
Availability:
Out of stock
₹88,500
Out of stock
SAPPHIRE NITRO+AMD RADEON RX 6700 XT OC
SAPPHIRE NITRO+AMD Radeon RX 6700 XT OC Graphics Card for the ultimate 1440p gamer seeking to harness breakthrough graphics with vivid visuals and excellent quality cooling solutions. Rigged with superior components to handle AAA game scenarios, the NITRO+ AMD Radeon RX 6700 XT Graphics card is a crucial component for an incredible gaming experience. The aesthetic design will be a beautiful integration into any PC build.
SAPPHIRE NITRO+ Graphics Card FEATURES
Explore all the incredible features that come with the SAPPHIRE NITRO+ AMD Radeon™ RX 6700 XT Graphic Card. We've split our features into 3 categories so you can easily see all the features we pride ourselves in designing to create the best gaming experience possible for you.
Software BIOS Switch
Switch from performance mode to silent mode or back using our TriXX software for a quick and easy switch between your dual BIOS modes.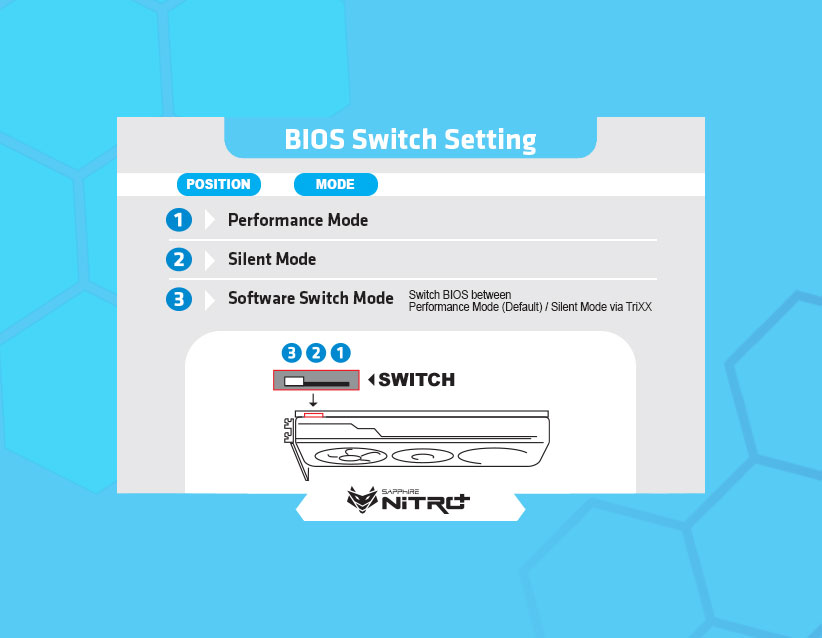 WAVE Fin Design & V-Shape Fin Design for GPU cooling
The WAVE Fin Design reduces friction when the wind goes into the fin module resulting in a reduction of the wind cut noise.
The V-shape fin design on top of the GPU accelerates and centralizes the air flow around the GPU to dissipate heat efficiently.
Hybrid Fan Blade
The new hybrid fan design combines the quietness of a traditional axial fan design and strong air pressure of a blower fan design to generate an improvement in the downward air pressure through the fan while keeping the fan noise low. 
Integrated Cooling Module & K6.5 Memory Pad
The combined Memory & VRM cooling module cools the memory, MOSFET, and the chokes. Two heat pipes are added underneath the module to dissipate the heat from the components with better efficiency. When compared to the previous K5, the K6.5 Memory Pad has a nearly 38% better thermal conductivity between the components and the cooler.
*Check Sapphire official website here
*check more details here
GPU
AMD Radeon™ RX 6700 XT Graphics Card
7nm GPU
AMD RDNA™ 2 Architecture
Memory capacity / bus
12GB GDDR6
Memory Clock

16 Gbps

Engine Clock


Boost Clock: Up to 2622 MHz

Game Clock: Up to 2548 MHz

Stream Processors

2560

Displays
Up to 4 displays
Resolution
1x HDMI : 7680 × 4320

3x DisplayPort1.4: 7680 × 4320

Interface
PCI – Express 4.0
BIOS support
DUAL UEFI
Game Resolution
4K
Cooling
3 fan
Form factor
2.5 slot, ATX
Dimension: 310.05(L)X 130.75(W)X 51.4 (H)mm
Power  Consumption
260W
System requirements
Minimum 650 Watt Power Supply
1 x 8-pin + 1 x 6-pin Power Connector.
PCI Express® based PC is required with one X16 lane graphics slot available on the motherboard.
Minimum 8GB of system memory. 16GB recommended.
Warranty
3 Years